About Us
So, what do you do?
That's a good question and hard to sum up in one tidy, neat sentence. We're Keika Ventures, LLC (KV), a small woman-owned business and probably the easiest category to lump us into would be that of an environmental consulting company. However, we like to call ourselves project integrators. Not familiar with that term? Our definition:
project integration

...bringing together the combination of products, equipment,
analyses, and training that you need for the successful
completion of your project.
We specialize in dealing with complex, multi-faceted environmental projects. Furthermore, we have a truly global presence. Our present client base spans six continents and we regularly conduct business in multiple languages. We pride ourselves on our customer service and do our best to find the best possible solutions to fit your needs. If you give us a try, we believe you'll find our assistance invaluable as you let us sweat the details while you're free to focus on critical tasks and pursuing your next projects.
We provide environmental products, supplies, and equipment, analytical services, and online compliance training to thousands of satisfied customers in more than 100 countries spread over all seven continents.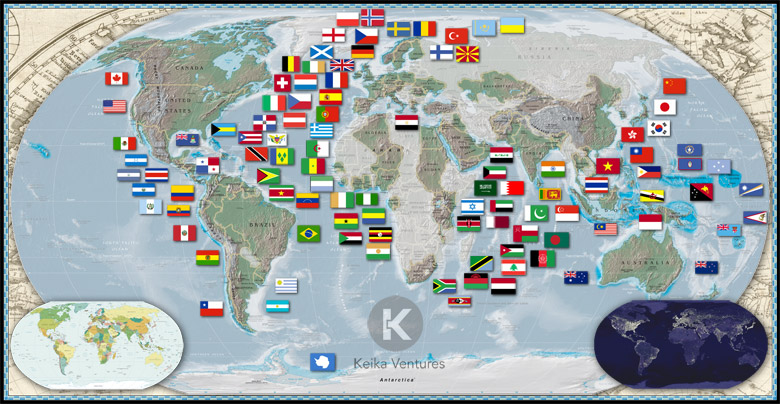 Project Integrator Services
From our previous experiences working with analytical labs, environmental consultants, and environmental engineering companies, we noticed the latent need for a "Project Integrator," someone to act as a point person for the client in coordinating all the different support functions for a project. The goal of a Project Integrator is the timely and cost-effective mobilization of equipment, supplies, training and support services to make your environmental project a success. A Project Integrator's role may include the following:
Support Equipment and Supplies
Supply of sampling equipment and products, such as personal monitoring pumps for industrial hygiene applications to sampling trains for source emissions monitoring applications

Supply of sampling cartridges and tubes, Tedlar bags, XAD-2 resin, Tenax and other sampling materials

Supply of glassware, from specialty and common laboratory glassware to sample containers and impingers
Support Services
Assistance in the definition of the scope of work on customer projects

Assistance in compilation and preparation of competitive bids

Coordination of the sampling teams and sampling schedule

Delivery coordination of sampling equipment and supplies, either to our customers' place of business or directly to a project site

Coordination of international shipments of products, equipment, and samples for analysis to make sure they do not get held in customs
Sample Management
Assignment of analytical laboratories to perform the work based upon a quality assurance/quality control review of their lab procedures. We have worked with numerous laboratories nationwide whose capabilities range in sophistication from asbestos to high resolution dioxin and PCB analyses.

Arrangements for, and the coordination of, the sampling media, bottle kit preparations, and sample recovery kits needed for sampling

Shipping coordination of the samples to the appropriate laboratory

Status reports of the progress of the projects to appropriate personnel

Delivery of the analytical report to clients and resolution of any questions that arise from the delivery of the final package
Online Training
Providing training that is compliant with EPA, OSHA, DOT and IATA requirements

Delivering courses anytime, anywhere, as long as you have access to the Internet

Customizing courses to fit your specific needs
We provide online compliance training to clients in all 50 states through
our training division Eduwhere. Each red dot might represent a single client
or 100 students at a single facility. Either way, each red dot gets the very best
expertise and customer service we can provide. We'd like to put your dot on our map.