Monday, Oct 17, 2016
King of Thailand: A Personal Remembrance
by Allyson
I just wanted to share our deepest condolences of the passing of your beloved King Bhumibol Adulyadej. I cherish many special memories of the Royal Family especially when the King and Her Royal Highness Princess of Thailand would come to Isaan where I also lived with my parents in the '60s and '70s.

We also cry for your King, and we cry for the people of Thailand.
---
Friday, Feb 20, 2015
KV Tees Go Global
by Woody
Jackeline, Roxana, & David of TSI in Costa Rica modeling the latest in KV active wear for the serious sampler. We love the double shaka!! Hang loose and hang ten. #global #happyclients #bodybillboards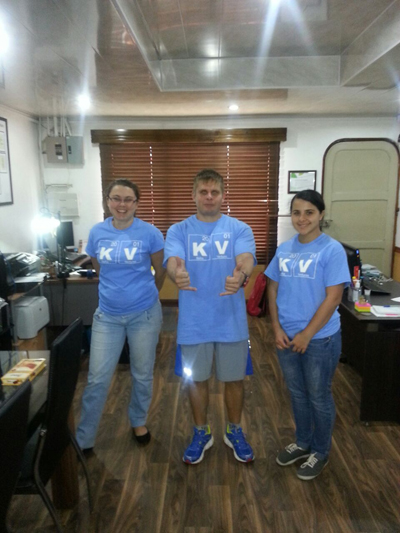 KV Tees in Costa Rica
---
Tuesday, Jan 27, 2015
Water Samples, Bananas & Costa Rica
by Woody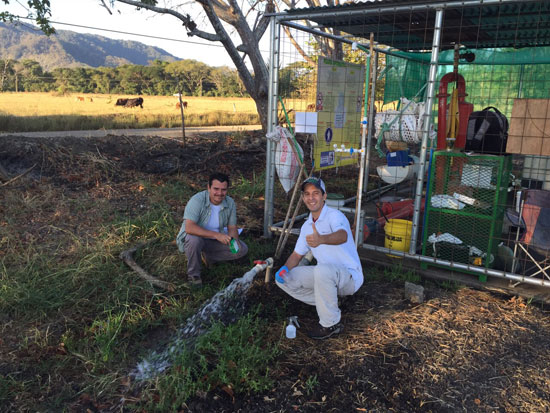 Collecting water for analytical tests from a banana farm in Costa Rica. Thumbs Up!
---
Thursday, Oct 30, 2014
Sample Bottles...
by Lorri
One of our labs sent us this photo of sample shipment they received from a client. Yes, those are Hot Wheels metal water bottles. And yes, the client had placed waste material (liquid freon) in the bottles to send for analysis. There was much spewing and a certain degree of profanity when the bottles were opened.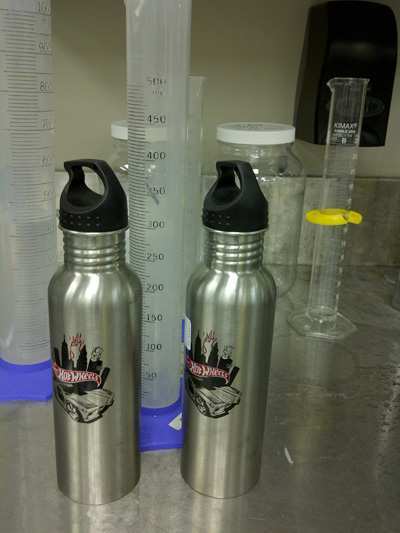 Hot Wheels = Hot Mess
---
Thursday, Oct 30, 2014
M29 Sample Collection in Chile
by Lorri
We love action photos! Here are a couple of photos showing one of our clients collecting samples using US-EPA Method 29 for Metals. Real world action shot on a stack.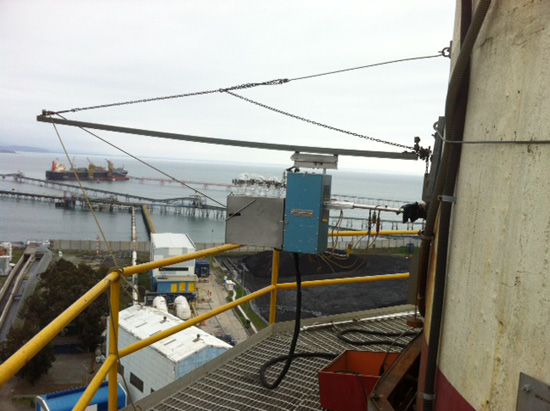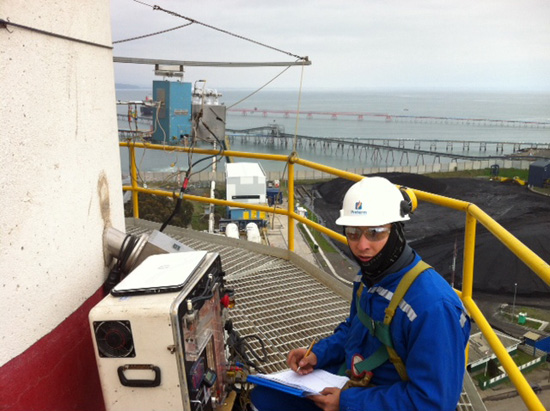 ---
Wednesday, Oct 29, 2014
October in Grants Pass, Oregon
by Allyson
Peter Pomponi of Met One showing two Keika clients a good time...over particulate samplers.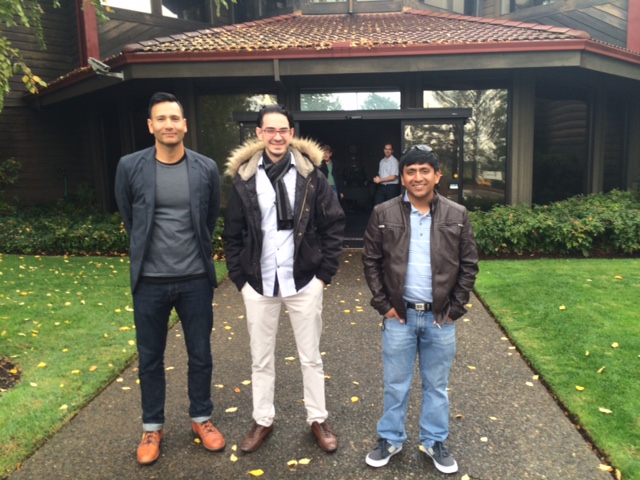 Hasan Zolata of Consultoria y Tecnologia Ambiental. S.A., Guatemala

Renzo Andrade of Green Group Peru
---
Wednesday, May 30, 2012
A bag of ice....to go
by Allyson
We always like to know what our sampling bags (Kynar, Solef, and Tedlar) are used for. In this particular case, the Swedish icebreaker Oden was in Antarctica where the bags were used to study carbon dioxide in sea ice and snow.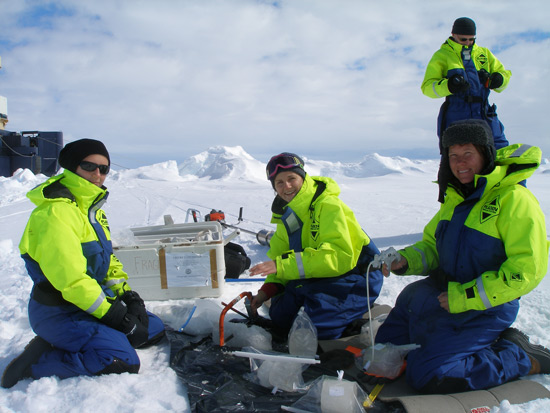 Photo credit: Melissa Chierici, University of Gothenburg, Sweden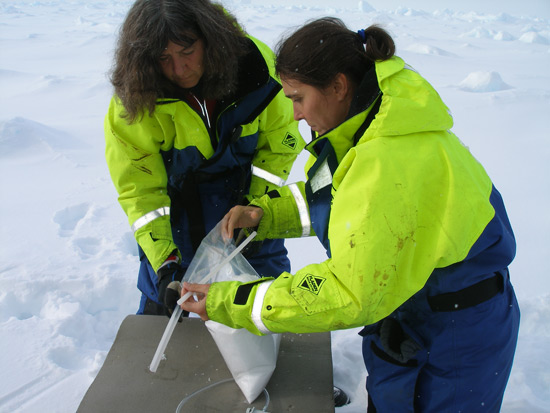 Photo credit: Agneta Fransson, University of Gothenburg, Sweden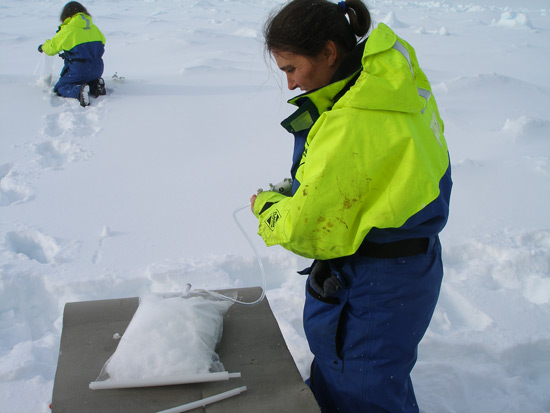 Photo credit: Agneta Fransson, University of Gothenburg, Sweden
---
Friday, Jan 13, 2012
Gold Rush and MSHA
by Woody
I'm watching Gold Rush on Discovery Channel (another Friday night wasted) and MSHA shows up at the Schnabel mine and shuts them down because they're not up-to-date on their training!! If only they had taken Randy's training through Eduwhere, they would still be mining for gold. All joking aside, safety is serious business and our training opportunities are tailor made if you need compliance training fast and you're in a remote location.
---
Saturday, Dec 24, 2011
An Open Letter of Thanks
by Allyson
As the year winds down, it is customary to reflect back on how it went, what we accomplished, how we accomplished things, and what we really need to get done next year. Those are all checklists of things, and while a huge satisfaction comes from actually checking it off the list, we can also marvel in what did not get done because we got side-tracked on other endeavors that became priorities.

It was another phenomenal year. And for that, I need to say "thank you" to our partners for our continued growth: The Keika Team, our Vendors, and our Customers.

I would first and foremost like to thank our Keika team. We are a small team, diverse, unique, unconventional, highly intelligent, witty, and most of all, enjoyable to be with. But it is the dedication and loyalty that blows me away. I see it daily and marvel how we could be so lucky to have attracted such talent and self starters. On behalf of the three founders, I thank you for believing in us, and for giving so much to our company. And to think it all started ten years ago with John… just showing up. If you ask him the key to getting "in", he will simply say it was just showing up and start doing work. It was only after the fact that we figured out we probably should compensate him for his time!

A huge thank you goes to our vendors, individuals and companies that we work with to accomplish projects for our clients. Without your support, encouragement, and never ending referrals, we would not be celebrating our 10th year. We thank you so very much for your unfailing support.

Finally, we thank our customers both old and new, for trusting us. We marvel at how far reaching our name is, and it all started with just one job/project/registration. The first led to the second which …eventually led to being featured in Inc. 5000. For those of you who know us well, I am sure you would agree that we are not known for tooting our own horn. Matter of fact, we tend to be very quiet about our accomplishments and simply rely on our customers for spreading the word. And good golly they have! We thank you for sharing our good work with your clients, colleagues, and even your competitors. Thank you!

All of you provide us with the motivation, excitement and drive to be jazzed about each and every day and what may lie on the horizon. 2012 is already looking to be incredible. Thank you for making 2011 a memorable year. Cheers/Salud to what is to come!

Kind Regards,
Allyson

Via:
Uruguay, South America
Keika Ventures' SA Office

---
Thursday, Jul 07, 2011
Teaming Agreement
by Lorri
We are pleased to announce that we've entered into a teaming agreement with BioGroup Centro de Investigación Científica y Tecnológica located in Argentina. BioGroup is an organization consisting of five research laboratories and approximately 80 scientists whose main focus is in developing and coordinating research and development projects in the industrial and environmental markets. We plan to team together on projects to offer clients a wider variety of services and analyses. We've already successfully completed a few projects and are looking forward to our next collaborations.



---
Thursday, May 05, 2011
Chapter 29
by Woody
Kudos to Linda for being selected to author a chapter on hazardous materials transportation for the Handbook of Transportation Engineering. The book is out (Amazon) and ready for your perusal... or save money and just take one of her courses on Eduwhere!

Way to go, Linda!
---
Thursday, May 05, 2011
SSCP: We're Doing It Again!
by Woody
While I was sorry to hear one their pumps had given up it's vacuum, I was pretty excited to hear from the Stanford Solar Car Project again this year. It gives us another opportunity to support this awesome endeavor into alternative power and good old fashioned engineering of real world problems. It also means they might let me take it out for spin (like they did last time)!



---
Tuesday, Mar 01, 2011
My Kind of Trade Show
by David
Pablo Leiva Fernández of Tecno Soluciones Integrales S.A. in Costa Rica recently visited Keika Ventures' global headquarters in North Carolina. Pablo is a huge NBA fan, so we decided to take advantage of the Lakers' visit to the Bobcats and surprise Pablo with his first live NBA experience. John and I drew the tough duty of hosting our guest. As I leave my teenagers marvel that I am off to an NBA game as "part of my job??" Correcta-mundo kids, stay in school!

We had great conversation traveling across the NC Piedmont about the local and global economy. We did a drive-by of Charlotte Motor Speedway. "Americans are willing to be organized." was Pablo's comment upon seeing the acres of parking that fill up on race day. Pablo knows about NASCAR, but not like he knows the NBA.

He was thrilled to see Kobe in person, but the real quest was to see His Airness or as Pablo put it "The Master." We talked a bit about college hoops, John the Dukie and me the Wolfpacker. We acknowledged MJs stature but reminded him that Duke is the reigning champ and NCSU beat MJs Heels in 83. "Yes, Mr. David that was a long time ago, your boys aren't very good now right?" Touche.

Bobcats Arena is a showplace. Cheerleaders greet you in the concourse and try to sell you Air Jordan's, talk about a marketing machine. "This is an NBA Trade Show" observed our guest. The Bobcats continued their historic domination of the Lakers (who knew?) with a 20 point beat down. Pablo with the help of a shiny happy usher drifted down to take pictures of "The Master". There! A tremendous black man behind the bench in the tailored bronze suit. That's MJ. Zoom lens at the ready. False alarm. Not him. MJ did not attend. Oh well, Pablo bought a t-shirt with his logo and that will have to do for now. On the way out of the building, a tide of organized Americans flows into the street. A Girl Scout troop no doubt sets a record for cookie sales as a group of limos circle and a street band cranks up the music. Trade show indeed.

On the way back to the Capital City John wowed our guest with quoting NBA statistics from his iphone. "I like the way you use your technology, John." said Pablo. So do I my brother. So do I.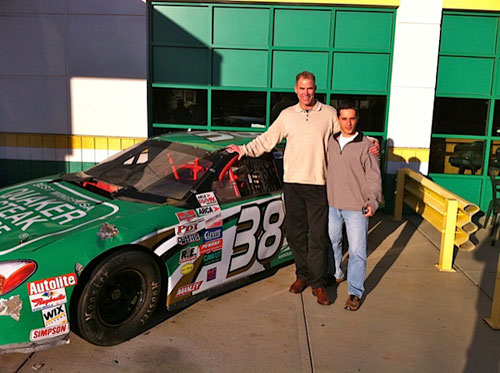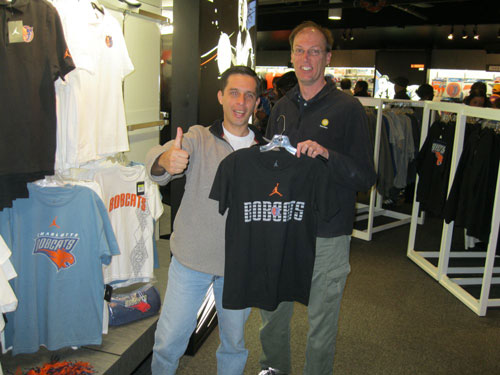 ---
Tuesday, Feb 15, 2011
How long?
by Allyson
Ever wonder just how long of an isokinetic probe we can ship? As of today, the new record holder is a 20 foot stainless steel probe!! Roland (in the photo below) had one foot to spare behind him in the transport truck. Megan at Hipage got a wickedly good air freight rate with LAN...and it's heading south. Ultimate destination: Bogotá, Colombia.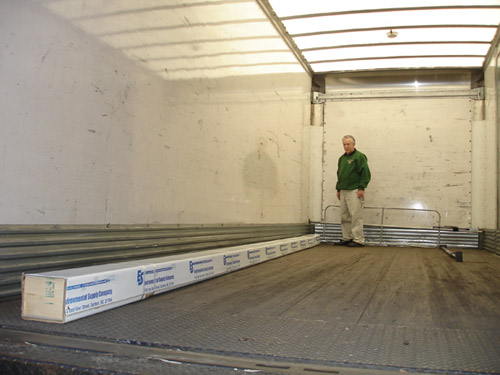 ---
Friday, Feb 04, 2011
Crushed
by Lorri
You spend hours planning your sampling event. Meticulously scheduling personnel and needed equipment down to the last marker needed to complete the chain-of-custody. Samples are sent to the lab and you head back to the office congratulating yourself on a job well done. Nothing to do now other than to tie up some loose ends with paperwork and wait for the results to come in and then you get the call from the lab. There's a problem - some of your samples arrived broken!

While some samples are broken during shipment, you'd be surprised at the number of breakages that are due to improper packaging rather than rough handling by FedEx or DHL. Recommendations are to put samples bottles in ziplock plastic bags and then wrap them securely with bubble wrap or other cushioning material. A tip is to make sure to cushion the bottom of the shipping container as well so the sample bottles aren't bouncing around on a hard surface during transport to the lab. Once all the sample bottles are in the package or cooler along with any needed ice packs, fill the remainder of the package with cushioning material to keep the bottles securely in place within the package. Make sure that you don't forget to enclose the completed chain-of-custody!

Spending a few more minutes to ensure the samples are well-cushioned and securely packed in the shipment cooler will save you many headaches and further costs.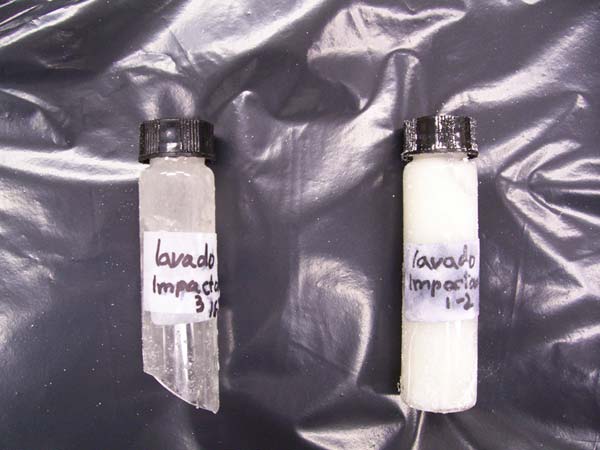 ---
Friday, Jan 07, 2011
Dioxin and the World Cup
by Allyson
While Europe is consumed with tracking animal feed contaminated with dioxin and slaughtering thousands and thousands of chickens, BBC's top story today was of FIFA moving the 2022 World Cup in Qatar to the (northern hemisphere) winter. This has caused much consternation.

Those of you who know us well realize that we become very distracted during the World Cup.

We also become very distracted with dioxin.

Consider us highly distracted today.

(Go Uruguay!)
---
Tuesday, Dec 28, 2010
Revisions to EPA Methods 201A and 202
by Allyson
EPA has been studying modifications to improve the performance of Method 202 since ~2006. A Stakeholders Group was formed to provide input and feedback. The product of this work effort was the OTM 28 Test Method, the use of which has been required in recent Information Collection Requests (ICR) programs during the past several years. OTM 27, the counterpart to EPA Method 201A that incorporates the addition of an optional PM2.5 cyclone, has also been required by the recent ICRs.

On December 3, 2010 the following announcement was made by Ron Meyers and Peter Westlin of USEPA regarding revisions to EPA Methods 201A and 202:

"Stakeholders and interested individuals:

This is to inform you that the EPA Administrator signed the promulgation package to revise EPA Methods 201A and 202 in Subpart M of 40CFR51. This completes a task that EPA started over four years ago. The revisions to Method 201A changed this method from one that quantifies only PM10 to one that also quantifies PM2.5. The revisions to Method 202 changed this method from one that could produce a wide range of results and included sulfate artifact formed from SO2 to a standardized method producing consistent results with artifact levels below the methods measurement capability. Because of the complex equations and length of this rule, we have requested galley proofs from the Federal Register Office. As a result, it is unclear when this rule will be published in the Federal Register. I will e- mail you when it is published. Until that time, you can obtain a copy of the rule that the Administrator signed and was sent for publication at: http://www.epa.gov/ttn/oarpg/new.html ."

The following are questions (Q) to EPA after reviewing the announcement, along with EPAs responses (A):

Q1 Are the methods changed as of the date signed or as of the eventual date of publication?

A1 "The effective date of the methods is January 1, 2011. Usually the effective date of rules is 30/60 days after publication. Our lawyers indicated that the purpose of the delay is to allow affected entities to adjust their actions to the new requirements without significant burden. By widespread notification (my e-mail to over 300 stakeholders, NAACA, affected associations etc.) we have provided reasonable notification."

Q2 What becomes of approved Test Protocols or submitted but not yet approved test protocols citing the older versions?

A2 "We have no Rules in Part 60, 61, or 63 that require these methods as of today. So the regulatory authority (State/local agency) would have the authority to 1) allow you to use the updated procedures before Jan 1, 2) allow you to use the procedures in the test plan after Jan 1 or 3) require you to revise the plan to do any specific combination of the above. Any testing procedures you do should be linked to the applicable requirement and the basis for the emissions limitation. If no one knows what was the basis for the emissions limitation and there were no specific test methods specifying the basis of the limit and the method to show compliance, I guess it is a negotiable item, just like using the nine options and testers assumptions for the 1990 version of Method 202.

If your plan has the 1990 Method 201A and only requires testing for PM10, there may be a few minor (but I don't think any substantial) difference in the methods (although with time permitting one would be wise to verify the differences). If the plan has Method OTM 27, there are some nuances to clarify the method. If the plan has the old Method 202, I would suggest a quick call to the regulatory authority to use the updated method (unless you have some magic procedure that causes sulfates, chlorides, organics etc. to evaporate and the regulatory authority doesn't care). If the plan has OTM28 and you are planning on using MeCl2, I would respectfully ask the regulatory authority to allow you to follow the updated method so you could use hexane."

Q3 I just noticed the >20 (65) degree specification for the CPM filter, in addition to the <30 (85) that was in OTM 28. Why the additional criteria, and how has that been done during the method development? Is there a heater on the filter, or is the cold box bath water heated?

A3 "There seemed to be a lot of concern by the commenters (some were testing types and some probably didn't have a clue) ranging from the maintaining the exact temperature and being able to keep such a precise temperature to the large range (from 85F down to absolute zero). We assessed what would be a reasonable range that testers could maintain and still achieve the goal of minimizing the absorption of SO2 in the collected water and decided that a 20 degree range was achievable. Except during winter, I don't think that a heater will be required to meet these conditions. If one were needed, a simple immersion heater in the water bath will be sufficient."

Q4 Why the switch to hexane from MeCl2?

A4 As far as the MeCl2, we received probably five to ten comments on the toxicity of MeCl2 and that several sources prohibited the use of MeCl2 at their sites. We thought for awhile and researched several solvents that would partition in water and extract the organic material and decided that hexane was the best alternative to MeCl2 from the standpoint of availability, vapor pressure (evaporation time), toxicity and usability.

Further questions or comments may be addressed to:

Ron Myers
U.S. Environmental Protection Agency
Office of Air Quality Planning and Standards Sector Policy and
Programs Division Monitoring Policy Group, D243-05
RTP NC 27711
Tel. 919.541.5407
Fax 919.541.1039
E-mail myers.ron@epa.gov
---
Friday, Nov 12, 2010
Tecno Soluciones' Travels
by Lorri
Pablo and David Leiva Fernández of Tecno Solciones Integrales S.A. in Costa Rica traveled to Brazil recently to attend a conference and learn a bit more about the South American agricultural markets. While in Brazil, they managed to take some time to see some sights. You can see a brief glance of our KeikaVentures logo, the bright yellow/orange circle on Pablo's "thumbs up" arm!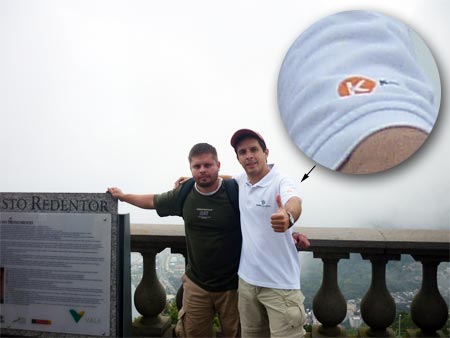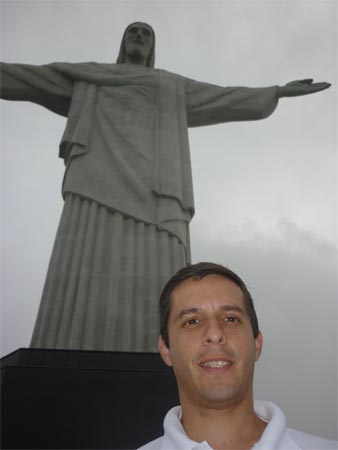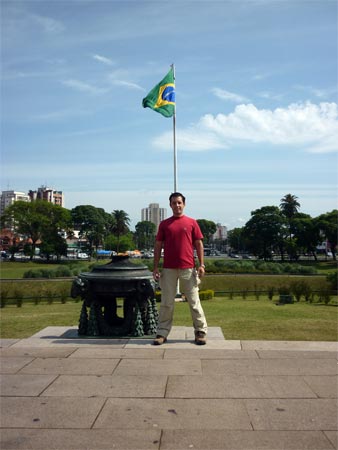 ---
Tuesday, Nov 02, 2010
Course Evaluation
by Woody
This may be the coolest course evaluation we've ever gotten for Hazardous Waste Management and Shipping for Environmental Professionals. It's certainly my favorite in a long time.


"Very detailed, very complete, with no extra crap"
We have great clients!
---
Friday, Oct 29, 2010
Fun With Hector
by Allyson
Héctor Rodríguez of Green Group PE SAC (Peru) enjoyed a bit of down time during his visit to North Carolina last week. Along with Woody and Madison, he got to experience fair cuisine, rides, and farm animals at the NC State Fair. They contributed to breaking attendance records at the fair (over a million this year).

With Allyson and Ed, he got to see a little bit of the diverse geographical terrain with a drive west to Hanging Rock. Although the colors were not yet spectacular, the hike was enjoyable, and he might have even broken a sweat climbing this rock! They treated themselves to "John Deere"-made peach ice cream afterwards.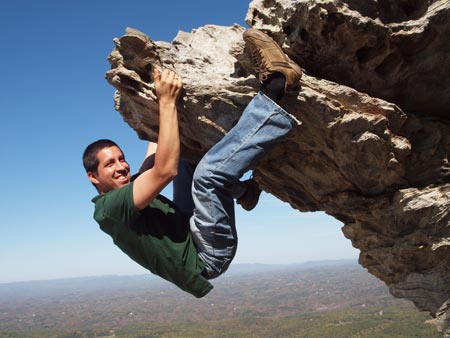 Hector hanging from Hanging Rock!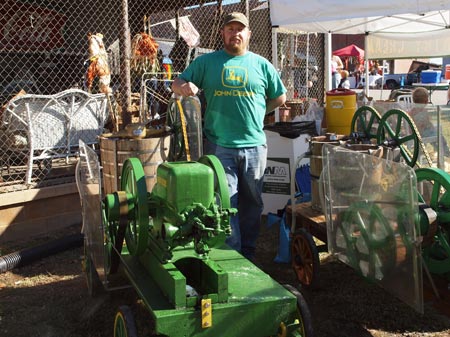 John Deere-enhanced peach ice cream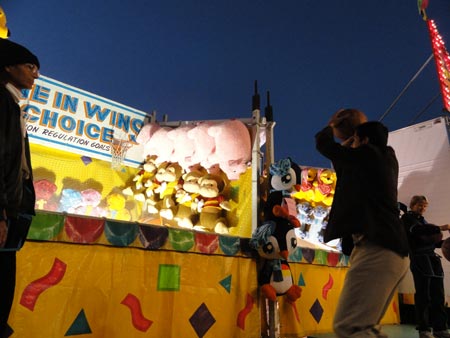 The basket is so small it's barely visible in the photo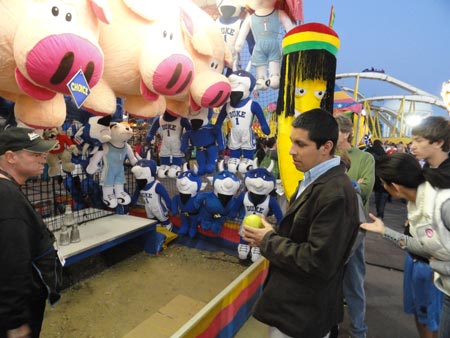 "But it looks easy" - Hector
---
Wednesday, Aug 04, 2010
When It Absolutely, Positively Has to Get There ... Overnight??
by Lorri
You may recognize the above tagline from a popular ad campaign that ran in the late 70's to early 80's. Well, you might recognize the tagline without the dramatic pause before the word "overnight". The dramatic pause leads me to tale about a shipment of Summa cans and controllers to Brazil for an ambient sampling job. FedEx certainly did their job getting the shipment to Sao Paulo in just a few short days. However, Brazilian customs doesn't operate on the same sort of time table. They operate on a schedule that's more like dog years. The shipment I'm referring to shipped one year – yes, you read that correctly - one year ago! Hmm, one year might be more or less equivalent to overnight in dog years wouldn't it?

Brazilian customs just doesn't want to release the package to our client. The shipment arrived with all the proper paperwork and other "special" forms requested by customs were submitted and re-submitted. After a delay of almost 7-8 months due to the paperwork shuffle and working around the vacation schedule of the Brazilian customs department (seriously, it seems as though it is a mandate that the whole office go on vacation at the same time and these people get a LOT of vacation time), we received final word that they were not going to allow our client to bring the shipment into the country and it had to be returned.

We began, once again, the paperwork shuffle to submit the forms to initiate the return of the cans back to the US. That paperwork has been re-submitted at least one time because the first submission of the paperwork had expired, no doubt while lying on some desk while the custom's department enjoyed caprihina's while vacationing on a sunny beach somewhere.

Has the shipment saga ended? No, we are still awaiting the return of the cans and controllers but I couldn't let the one year anniversary pass without comment. I can only hope I am not celebrating the second anniversary here with another blog post!
---
Thursday, Mar 11, 2010
Clients in Chile
by Allyson
We got the thumbs up signal from Proterm in Concepción, Chile that they are OPEN for business after the 8.8 magnitude earthquake struck on February 27, 2010. Who better to diagnose the boilers, dryers, and ovens located in Bío Bío than this fine team of engineers in Concepción.

And just now we've learned Chile has been hit with another earthquake this morning... 7.2 magnitude. We're hoping for another thumbs up signal.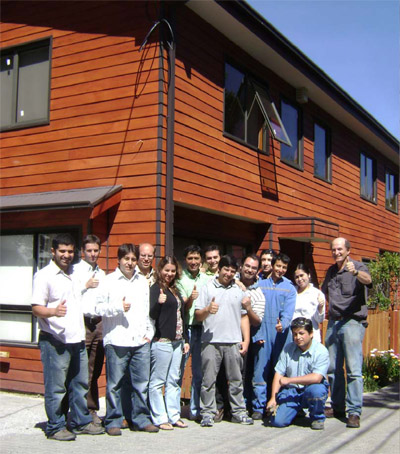 Proterm in Concepción, Chile
---
Friday, Feb 05, 2010
Team Tecnosoluciones
by Allyson
Usually out "en el campo" collecting fruit or water samples, it is rare that the Tecnosoluciones' team is in their San Jose, Costa Rica office all at the same time. They thought they would capture the moment in a picture!

Tecnosoluciones Integrales S.A. works one-on-one with the Central American agricultural sector to ultimately make sure they are bringing to market produce that is acceptable for export to the US and Europe. Towards this end, they are very involved in the growing process, usually getting down and dirty with the growers to not only make sure they have a quality product, but also with time and patience, gaining the respect from the growers to add value in other areas such as environmental monitoring and preservation.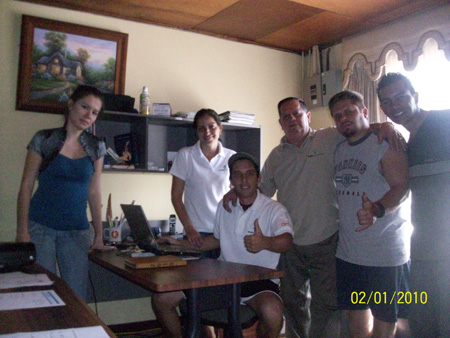 Tecnosoluciones Integrales S.A.
---
Thursday, Nov 05, 2009
Microbes in Bags in a Lake in Italy
by Amy
Dr. Alessandro Saccà with the Dipartimento di Biologia Animale ed Ecologia Marina at Università degli Studi di Messina was nice enough to describe his research in Lake Faro, Messina, Italy. Alessandro is using some unusual Teflon bags, not Tedlar, fitted with two different types of valves and two grommits (yes, we do lots of custom bag orders). They are using Teflon as it is more permeable than Tedlar or other films. They are running experiments with the aquatic microbial critters, so the bags must be permeable so small molecules of gas can permeate out. Here's Alessandro's description of his work:

"My study focuses on the microbial food web in anoxic aquatic ecosystems, that is to say how much a microbe eats another microbe and who eats who in an aquatic environment deprived of oxygen. Some aquatic ecosystems are not completely anoxic, but only in their bottom water layer. One of these stratified environments is the Black Sea, which is also the largest of its kind. I am studying what happens in a small version of the Black Sea, a coastal pond in Sicily, Italy, named Lake Faro."

"For doing this I use the Teflon bags as incubation chambers to be kept in situ for an incubation time of typically 24 hours. The bags are first filled with water (and microorganisms therein) from the anoxic layer of the lake, taking care that no contact with atmospheric air occurs. Then they are lowered at the same depth the water was withdrawn from (that is what in situ means) and after a given time their content is studied under the microscope in order to understand and quantify the trophic interactions that took place."

"Teflon bags have a low permeability to gases and they are flat when emptied: no air is inside. I can then connect directly my water sampling instrument to them and fill them avoiding any contact with air, that would be lethal to anaerobic microorganisms. Two bags are generally used, one containing the entire microbial community, including predators which are supposed to be larger than preys, and the other which has been previously screened so as to exclude the larger organisms and thus containing only preys. The difference between what I find in the two bags is accounted for by predation."

Post-doc work on a lake in beautiful Messina, Italy... sounds like a pretty sweet gig to us!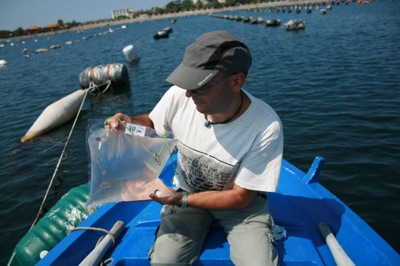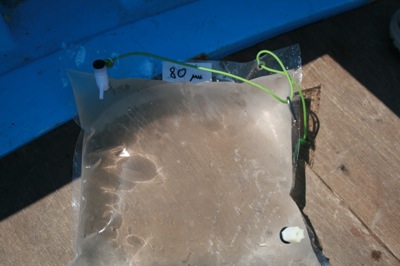 ---
Tuesday, Nov 03, 2009
Funny Tales from Bill Vecere, Tedlar Bag Pioneer
by Amy

Way back when, in the pre-EPA days, somewhere around 1968, people were just starting to use Tedlar bags to collect automotive emissions samples. The details are a bit foggy...it was still the 60's afterall... But, the first generation bags were sealed with double-sided tape. At some point, one of his off-shore customers decided that he had had enough with the problems posed by the double-sided sticky tape bags and requested that Bill sort out a way to actually heat seal the bags. So, Bill embarked on a mission to come up with the correct 'recipe' for heat sealing this material. After several modifications and tweaks to existing equipment, Bill found the method. And in true engineer form, all the testing was done in his basement with the neighbors quite curious why his lights would dim when he was tinkering downstairs.

Testing the integrity of the bags lead to other ingenious, and curious, experiments: Filling the bags with water and hanging them from the clothesline and filling the bags with air and putting textbooks on top of them to be sure that nothing leaked out. And we wonder why Bill was never invited to the neighborhood 4th of July party?!?

So, today, we have Bill to thank for his hard work and persistence in figuring out how to handle Tedlar. He is currently working with his vendors and customers to fully test and optimize Tedlar's replacement material, Kynar.
---
Friday, Oct 16, 2009
Stanford Solar Car in Australia
by Woody
Here's a shot of the team in front of their car, Apogee. They're down under for the World Solar Challenge. Wired.com ran a great article with lots of photos on the Apogee and the team. It's a wickedly cool car, and we think it's neat that our pump helped form it.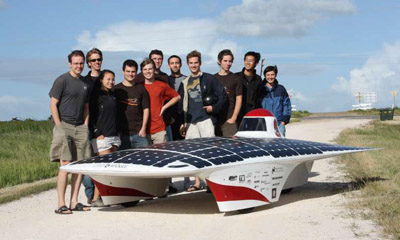 ---
Friday, Jun 19, 2009
Tedlar Bags in New Zealand
by Amy
Our Tedlar bags are widely traveled. We've sent bags in all shapes and sizes and types of fittings to the far ends of the earth. Here's a client in New Zealand with a slightly different use for our bags:

"We sometimes use them for clean gases, but have mainly used them for incubation of soil, root and soil core samples to collected respired CO2. Evacuating the bags with soil or roots inside is a pretty harsh thing to do to a gas bag. Thankfully the valves and seals have stood up to this abuse."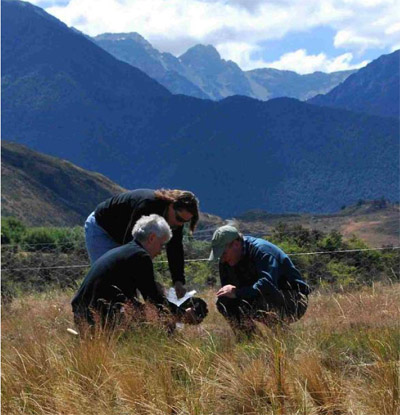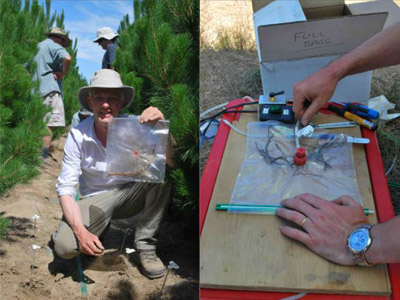 ---
Tuesday, Apr 07, 2009
I Get to Drive the Solar Car!
by Woody
The Solar Car team at Stanford was nice enough to give us a tour of their shop and even gave me a turn behind the wheel (actually, there's no wheel). All I can say is "Wow!" They have designated the 2005 car as the demo car for dignitaries, sponsors, and other people who can't drive, like me. I was struck by how quiet it was, how well it handled, how fun it was, and how unbelievably uncomfortable and awkward it was :)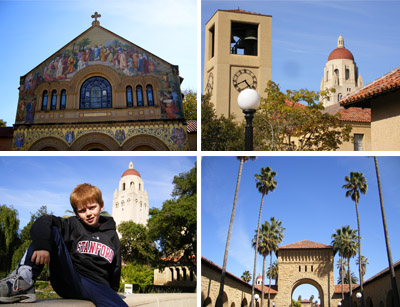 It was a beautiful day in Palo Alto, CA.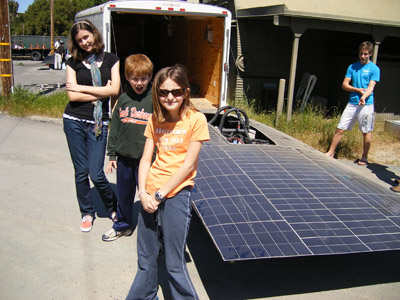 Here's the 2005 car.. lots of miles later, but still in fine form.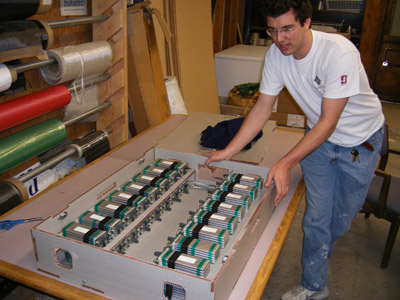 Here is the battery pack that holds all the converted photons.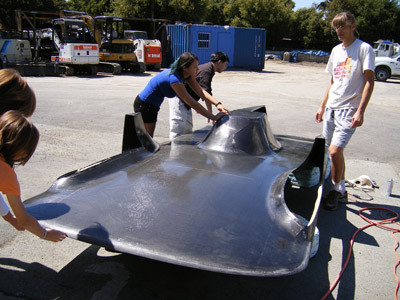 The newly formed body (made with our pumps).
The Rocker pump seems right at home.
---
Tuesday, Oct 07, 2008
Vacuum Pumps Making Solar Car Happy
by Woody
Our Rocker pumps made it to the Stanford Solar Car shop in Palo Alto. Sasha emailed us to let us know the vacuum pumps are making life in the shop happier for air breathing mammals:

"We just used the smaller of the two pumps for the first time this weekend. We used it to pull vacuum on a carbon fiber sandwich panel. Everything worked out very nicely, and the shop was indeed smoke free. In general it was a vastly more pleasant experience than our previous pump."

The SSCP team uses the pumps for vacuum forming lots of car parts, from instrumentation panels to the body of the car (top and bottom).
---
Sunday, Sep 14, 2008
KV Sponsors Stanford Solar Car
by Woody
We're super-excited to announce we're sponsoring the Stanford Solar Car Project. The team's president, Sasha Zbrozek, emailed us to say they were in need of Rocker oil-free vacuum pumps and it just so happens we offer Rocker oil-free vacuum pumps. Not only is this great alternative energy research but our Chief Instructional Officer, Linda Reinders Taylor is a Stanford graduate (Civil Engineering, Class of '88).





Website: Stanford Solar Car Project.

Good luck to the SSCP team!
---
Wednesday, Dec 31, 1969
by
---