EPA Method 5 System: Determination of Particulate Emissions from Stationary Sources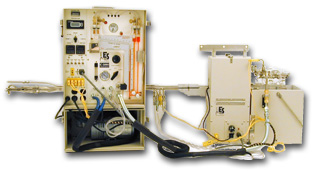 Important Note: Persons using this method should have thorough knowledge of at least the following additional test methods: Method 1, Method 2, and Method 3. For those unfamiliar with these other methods, you might want to take a theoretical course offered through our training division, www.eduwhere.com, on Method 1 - 5 (for Portuguese and Spanish version, please click the links).
The Environmental Supply Method 5 Sampling System consists of the following components:
Console (with pump):
C-5000 The C-5000 Series Console consists of: 10" Dual inclined manometer with 1" incline and stainless steel shutoff valves, manometer solenoid valves for on-the-fly zeroing capability, solid state temperature controllers for probe and filter, 7-station thermocouple selector switch, LED temperature readout, amphenol 4-pin fused power delivery, power-pump-timer-null-orsat power switch controls, stainless steel valves and 1/2" QC sample inlet, 3/8" QC pitot inlets, 1/4" QC Orsat Inlet and pump connections
C-5000-D Console with Digital Dry Gas Meter, English version
C-5000-O Console with Orsat Options"
C-5100 Metric Version of the C-5000 Series
A-2000 Auto Isokinetic Flow Integrator and Automatic Components. A-2000 Auto Isokinetic Flow Integrator is a modular flow control and data acquisition assembly that has been developed to automate isokinetic testing using flow integrated volume determination, flow control and data acquisition. The A-2000 assembly is compatible with existing manual isokinetic testing equipment, replacing the functions of the manual metering console, but allows operator oversight if monitoring the manual control console is desired. The A-2000 may be used with an oil-free pump as the standalone control console, or with the standard method 5 vane pump if a standalone dry gas meter or fully equipped metering console is used to verify flow volume. The data acquisition system eliminates most operator error as heat control, temperature, dry gas volume, differential pressures and flow determination information is received, averaged and logged many times per second. The system is useful to reduce operator error, expedite reporting, and reduce manpower especially where simultaneous multiple port sampling is required.
Calibration Accessories:
CO-QC8-SS-SET Critical Orifice Set of 5 Calibrated Orifices with 1/2" QC Stem, SS, Calibration Report, Spreadsheet Diskette, Foam-Lined Case
Umbilical Cables: 1/2" sample line with 1/2" QCs, 3/8" Pitot Lines with 3/8" QCs, 1/4" Orsat Line with 1/4" QCs, Five Thermocouple Lines, 16Ga/5 Conditioner Power Line, 4-Pin Amphenol Connectors, Full Length Nylon Rope Strain Relief
UC-25 Umbilical Cable, Flexible Sheath, 25'

UC-30 Umbilical Cable, Flexible Sheath, 30'

UC-50 Umbilical Cable, Flexible Sheath, 50'

UC-60 Umbilical Cable, Flexible Sheath, 60'

UC-75 Umbilical Cable, Flexible Sheath, 75'

UC-90 Umbilical Cable, Flexible Sheath, 90'

UC-100 Umbilical Cable, Flexible Sheath, 100'

UC-150 Umbilical Cable, Flexible Sheath, 150'

UC-200 Umbilical Cable, Flexible Sheath, 200'
Probe Assemblies: All welded 316 stainless steel construction, 1" sheath with welded 5/8" nut and Teflon coated unin, 3/8" pitots and 3/8" SS QC stems, 1/4" Orsat line and 1/4" SS QC stem, stack thermocouple, liner with removable heating mantle.
Available in SS, Pyrex, and Quartz Lined

Available in 2, 3, 4, 5, 6, 7, 8, 9, 10, 11, 12, 16 and 20' lengths for most
Glassware: Heavy wall precision ground ball and socket connections, ball joint with o-ring is standard, silicone and viton o-ring furnished with each ball joint. The GSBO-3 Single Ball Joint/O-Ring Glassware Set with 3" (82.6mm) Filter Assembly (or GSBO-4 for 4" filter assembly) consists of:
| | | |
| --- | --- | --- |
| Qty 1 | GP-101 | Cyclone Bypass |
| Qty 1 | GFA-3T | 3" (82.6mm) Filter Assembly, PTFE Frit |
| Qty 1 | GP-103 | Double L Connector |
| Qty 1 | GP-104 | Greenburg Smith Impinger (with orifice) |
| Qty 3 | GP-105 | Modified Impinger (without orifice) |
| Qty 3 | GP-106 | U-tube Connector |
| Qty 12 | GP-109 | #28 Stainless Steel Ball Joint Clamp |
| Qty 10 | GP-107-S | Silicone O-ring for #28 Ball |
| Qty 10 | GP-107-T | Teflon Coated Viton O-ring for #28 Ball |
| Qty 4 | GP-108-S | Silicone O-ring, Stem-Bottle Impinger Taper |
| Qty 4 | GP-108-T | Teflon Coated Viton O-ring, Impinger Taper |
Sample Recovery Accessories
(M5-CK)
Qty 2 M5-CK1 Cleankit Glass Funnel

Qty 1 M5-CK2 Cleankit Plastic Funnel

Qty 1 M5-CK3 Cleankit Impinger Brush

Qty 2 M5-CK4 Cleankit 1000ml Polypropylene Bottle

Qty 1 M5-CK7 Cleankit 12" Probe Brush

Qty 5 M5-CK5 Cleankit 18" Probe Brush

Qty 1 M5-CK-NBSET CleanKit Nozzle Brush Set, 1/2", 3/16", 5/16"

Qty 1 M5-CK8 Cleankit Spatula

Qty 1 M5-CK9 Cleankit Tweezers

Qty 1 M5-CK12 Cleankit Carrying Case, Foam-Lined
Method 5 Basic STACK SAMPLING System & Diagram (PDF)
EPA Method 5 System: Determination of Particulate Emissions from Stationary Sources
Item # M5System

Add to Quote for Pricing

Add to Quote